XIVth century
The fourteenth century is a pivotal century, the habits of the thirteenth century are still present, but trade and evolution of technology will revolutionize fashion.
Period's categories
---
---
Dordrecht girdle purse
En stock
Dordrecht girdle purse in undyed vegetable tanned leather, linseed oil and beeswax treatment Seam turned over with waxed linen thread, pocket opening on the front Dimensions: Height 21cm Width 22cm Price 100€
Pilgrim bag
En stock
Reconstruction of a pilgrim's bag with shoulder strap found in Switzerland (1st half of the 14th century) I made it in goat leather. The final cut is imperfect insofar as on the original, traces of repair (multiple stitching holes and rivet holes probably present) are remarkable. Turned seam, 2 simple brass buckles for closing the flap and for adjusting the shoulder strap. Dimensions: height 18.5cm, maximum width 15.5cm Price 115€
XIVth century girdle purse with praying knights
Girdle purse end of 14th century shaped. Made of vegetal tanned leather 1mm and 1.5mm thickness. The dye is an historic recipe with iron oxide. Buckle (sourced Visby) and strapend in brass The praying kneeling knights were embossed by hand and then painted in leather dye according to the colors of the source stained glass. Dimensions: Height 19cm, Width approximately 23cm
"Battle of snowballs" girdle purse
Here is a single pouch girdle purse dated XIVth century with a hand embossed special illumination. The outline has been painted in gold. This is the detail of a fresco of the Palazzo Publico of Siena, "The Allegory of Winter" by Ambrogio Lorenzetti 1st half of the 14th century depicting a battle of snowballs. Dimensions: Height 22cm, width 22cm approximately
"Kidnapping" girdle purse
A single pocket girdle purse with an embossed patern based on embroidery pattern on a 14th-century textile purse depicting the kidnapping of a lady by a courtier. In vegetable tanned leather of 0,8 mm and 1,5mm. Sewn with waxed linen thread. Green dyed
Single pouch girdle purse
Purse made with vegetal tanned leather. Picture embossed by hand based on a poetry book writen and illustrated by Guillaume de Machaut (3rd quarter of the 14th century) Hand sewn with waxed linen thread, golden brown oil and alcohol burgundy dyed. Historical brass buckle made by LORIFACTOR. Measurements: Height 22cm, Total width 23cm.
"Book of hunting" purse
Recreation of a purse after an illumination of the Book of Hunting written by Gaston Fébus at the end of the fourteenth century. One pouch, brass buckle and strapend, alcohol chocolate color dye, circles are in natural leather colour, the crossed pattern was made after dyeing.
XIVth century one pouch purse
One pouch purse of the XIVth century with a rather original form. Leather lacing according to the methods used during the period. The front pocket is not tinted, the back and the flap are dyed with aged brown oil. 14th century brass buckle. Dimensions: 22cm height, 24cm width. Price 60 €
Dordrecht Purse
Reproduction of a Dordrecht model purse (Purses in pieces). Tanned vegetable leather 0.8mm and 1.5mm thicknesses. Fullly hand-stitched according to the original. Alcohol dye and flaxen thread. Identical dimensions to the original purse 22cm X 22cm. Perfect for the 2nd half of the 14th and 15th centuries. Price 80 €
Purse with "AMOUR" pattern and motto
Vegetable tanned leather purse with two pouches, front in 0.8mm thick and back and flap in 1.5mm. Reasons from illuminations 14th century. The illumination on the back pocket is from Alexander's novel. The motto is customer one's "tarde venientibus ossa" ("people coming late will only have bones"). Buckle type Dordrecht and brass strapend. Entirely hand-stitched with flaxen linen and alcohol dyes.
Purse
One pouch purse from Dordrecht
One pouch purse with besants
Dordrecht purse with wax tablet and stylus pouchlets
14th century purse based on Dordrecht models. Double pocket with opening on the front on the 1st, and opening plus pocket for wax tablet and its stylus for the 2nd. Vegetable tanned collar thickness 0.8mm for both pockets, 2mm for the tablet pouchlet. Fully hand-stitched with linen thread, oil dye aged brown and light brown. Brass buckle and strapend period XIVth century. Motif embossed on the tablet pouchlet from a book by Guillaume de Machaut, composer and writer of the 14th century. Embossed motto on the flap is "Nosce Te Ipsum" means "Know yourself".
---
Maciejowski pattern Crossbow Quiver with wooden clasp
---
---
French XIVth century mirror leather box. dimensions 9cm X 9cm
Mirror box in vegetable tanned leather thickness 1,5mm. Fully drawed and embossed by hand. 14th century illumination on front face, coat of arms of the family's owner and love word at the back. Dimensions : 9cm length X 9cm width X about 2cm thickness. Simply switched to linseed oil and greased. Suspension braided cord with silk thread.
---
---
XIVth century Scabbards and Sheaths
---
Knife and scissors with its sheath
Here is the essential accessory for all workers: a sheath for a knife and forces, common models in the 14th and 15th centuries. The leather sheath was molded beforehand on the force then molded on the knife before being sewn on the external face. Made of 1.5mm thick vegetable tanned collar, stitching with waxed linen thread, patinated hazelnut dye and vegetable dyed silk braided loop (Micky's workshop). The knife was forged by Mikhail de Forge de Gobannos
Damask knife andits leather case
En stock
Here is the result of a 6-hand work: A leather sheath for a damask knife made by Forge de gobannos enhanced by two brass parts made by Gothic cast medieval accessories. The knife is an evocation of the original piece, part of a treasure from the town of Burs on the island of Gotland, dated 1361 shortly before the battle of Visby. The brass pieces are exact replicas with the sole detail that they are not coated with silver. The knife has been forged in 8 alternating twisted layers and "welded" in the forge. The cutting edge was brought back in a kit of laminated damascus steel and welded in the forge of 312 layers The handle is in yew, a very common species in the making of handles in Scandinavia. The box was made in 2 layers of vegetable tanned leather 2mm thick, boiled and sewn in tunnel seam. Freehand drawn floral designs incised, embossed and spooned into a background of 1mm diameter dots. On the back of the sheath, the sourced geometric patterns have been incised. Oxid-gallic dye according to the historical recipe and patina with natural beeswax Knife dimensions: Total length 30.5cm; blade 17.5cm thickness 2.6cm Dimensions of the box: Length 32cm, Width 6cm, Thickness 3.5cm Price 750€
Utility knife and its sheath
Folding utility, replica of Thames excavation (England) (made by Tod Cutler) and its sheath. The case is a reproduction of an artefact, part no. 412 in the "Knives and Scabbards). Made of 2.5mm thick vegetable tanned leather, sewn with waxed linen thread, dyed with a mixture of linseed oil and walnut husk. Sheath dimensions: Length 11.5 cm, Width at the mouth 3.5 cm.
Dining set with sheath
The essential accessory in medieval reenactment is our cutlery! You go to table without your set, shame on you! So here is a set of cutlery (knife 23cm and its pricker / sharpener 20cm) in a sourced sheath XIVth century. An inner layer molded directly onto the utensils was then covered with the richly decorated outer layer in accordance with the excavation piece. The patterns of stamps have been reproduced according to the sources (pattern and size), waxed linen thread stitching, the dyeing is historical based on iron oxide. Dimensions of the sheath: Length 20cm, width 4,5cm approximately Price: 115 €
Folding knife and sheath
Folding knife dated 14th-15th century with its sheath (model of the London Museum from Knives and Scabbards) Made in 2 pieces of vegetable tanned leather 2mm thickness, the patterns were incised then embossed. Sewing with waxed linen thread. Golden brown dye Dimensions: Length 11cm, Width 5cm Price 110 €
XIVth century scabbard
14th century scabbard personalized with the coat of arms of Savoy with the suspension system proper to the medieval sculptures. I had to think a little to make the strap that allows to hold the right sheath on the axis of the belt of nobility. Wolf and coat of arms provided by the sponsor, hand embossed, scabbard pattern made by incisions and stamping. Vegetable tanned leather 2mm, stitching with waxed linen thread Burgundy dye for the whole; yellow, red and white for details.
Razor/knife and sheath
Recreation of a folding found in the excavations of the Thames in England (dating 2nd half of the 14th-15th centuries): bronze body. And its sheath reproduced from an archaeological found of the first half of the fourteenth century. Two layers of leather, 1.5mm thick liner and 0.8mm outer liner. Drawing of the pattern made by freehand and fully embossed by hand. alcohol Oxblood dye. Dimensions of the sheath: 15 cm length, 4 cm width at most
Type XIV sword Scabbard
Sword scaabard for type XIV sword. With coat of arms of Robin RAGUENEL III, knight having participated in the fight of the thirty, Breton ermine embossed by hand, "Verum is Gladio" being the motto of the Penthièvre family. Vegetable tanned leather fully embossed and engraved by hand and dyed, currencies in riveted brass letters, linen thread stitched. Suspension system sourced
Knife with sheath
Utility knife and sheath fully embossed by hand ; reproduction of a excavation found from the end of the 14th century. Sheath dimensions : 18cm length, 3cm width. Alcohol black and red dyed. Vegetable dyed silk thread braided cord. Utility blade length 13.5cm. Price 70 €
Roundel dagger and scabbard
For his roundel blunted dagger , a small scabbard fully embossed by hand after the motive of an excavation found 1st half of the 14th century. Sheath length 36cm Alcohol dye. Lucette with vegetable dyed silk thread . Price € 143
small knife and sheath
Small utility knife scabbard cut into a vegetable tanned leather piece 1.5mm thick. Engraved and embossed patterns based on a second half of the 14th century excavation. The shape is also proven 14th century. Alcohol burgundy dye, leather suspension strap.
---
---
Crossbow quiver
Here isa 14th century crossbow quiver made from an illumination from the Roman d'Alexandre. Thanks to L'Héraudie Messine for the photos in situation. Made of 2mm vegetable tanned leather, boiled and shaped to best match the source image. On the top of the quiver were incised and embossed ivy motifs, a dragon and a bird framing the coat of arms of the company Sewing with waxed linen thread, linseed oil finish and natural beeswax patina. Dimensions: diameter at the mouth 17cm, diameter quiver 12cm Height 26cm - 29cm.
XIVth- XVth garters
Pairs of garters to keep the breeches and shape your calf (+1 in charisma). 5 pairs available with sourced patterns. Brass buckles If you want a personalized pair, send me a message Price 45 €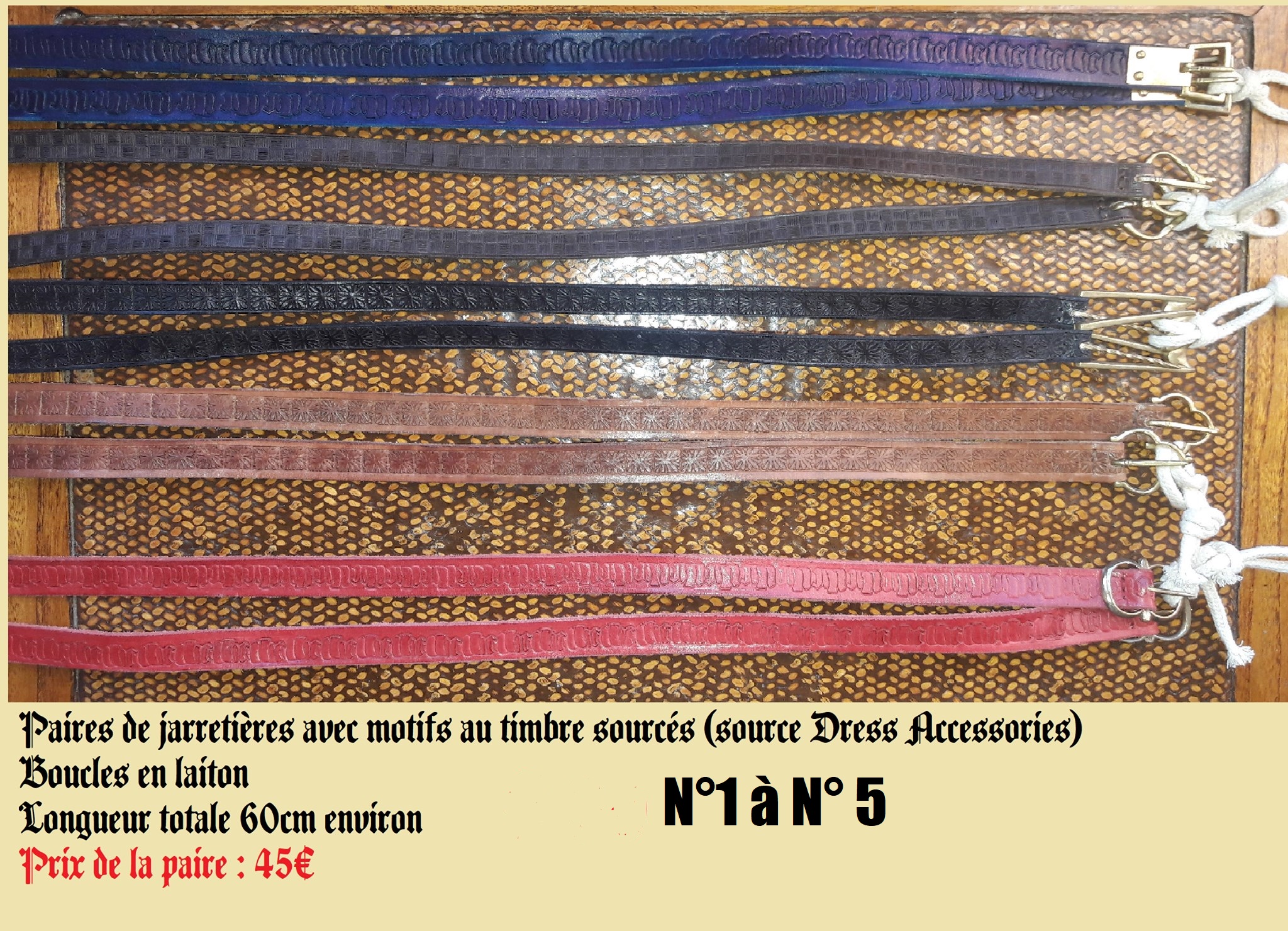 Female Archer Arm bracer
Reproduced from a model from the end of the 14th century found in York tanned vegetable leather oil brown gold dyed. The pattern comes from the illuminated manuscript of Evrard de Conty, the amorous chess Dimensions without straps: 17 cm long, 15 cm wide
---
XIVth century leather cases
---
Leather case with fantastic animals
Reproduction of a 14th century leather box, origin France or Italy exhibited at the British Museum. Made in 2 layers of boiled vegetable tanned leather glued and sewn. The embossing work was very meticulous, the figures of fantastic animals are remarkable. Everything was drawn freehand, incised and pushed back with a spoon. Oxido-gallic black dye, natural beeswax patina Dimensions: 12cm X 8cm X 4cm
German needle box
Needle box reproduction of a German archeological find from the 14th century on display at the Cologne Museum. Entirely made without seam, the box has been assembled with boiled leather, gelatin and fish glue. Made in 2 layers of 2mm leather. The patterns were incised and shaped with a spoon. Finishes with black oxidation-gallic dye and natural beeswax. Dimensions: Height 7.5cm, Width 3cm
ALbum leather needles boxes
In this album you will find a series of needle boxes. All are sourced. Compatible with reconstitution 2nd half 14th century and 15th century. Made in 2 layers of molded natural leather, sewn and embossed on a wooden form. Waxed linen thread sewing Give me the number of the box you want by message and I will note it reserved.
Spectacle leather cases
Leather cases for non-folding medieval glasses. Made in 2 layers of vegetable tanned collar 1.5mm thickness boiled and molded on a wooden form. Carving and embossing of the floral and geometric patterns have hand been made manually once the set was dry. Black dye according to historical recipe based on iron oxide then waxing with natural beewax. White deer leather lace Suitable for glasses up to 12 cm in length. Dimensions: Internal height 1.5cm, Length 14cm, Width 6.5cm
Needle cases
Small needle boxes made from Dordrecht's excavation pieces Two layers of leather. Pattern incised and embossed by hand. Vegetal dyed silk braided loop Dimensions: Height 6.5 cm, Width 2.5cm
German needle case
Reconstruction of a needle box on display at Cologne Museum in Germany. Made with two layers of vegetable tanned leather. Pattern incised and embossed by hand. Vegetal dyed silk braided loop Dimensions: Height 8cm, Width 2.5cm
Birds pattern needle case
Needle case reproduced from an incomplete excavation piece (the cap was missing) from Dordrecht (reference "Purses and Pieces") Birds pattern and incised and embossed branches, background applied with 1mm point stamp. Cap pattern is an interpretation from the case 2 layers of leather moistened, molded and sewn on a wooden base. Stitched with waxed linen thread, ox blood dye Yellow vegetal dyed silk braided loop Dimensions: Height 8cm, Width 2.5cm
Floral pattern needles case
Made in two layers of vegetable tanned leather. Italian inspired floral motif entirely embossed by hand. Blood red dye. Braided loop made in vegetal dyed silk. Dimensions: Height 8cm, Width 2.5cm
Sewing leather box
Dimensions 20cm in diameter, 14 cm high. The illuminating motifs were embossed and incised by hand, then dyed with alcohol dye for the body of the box, alcohol dye also for the lid with a brush. The motif on the lid has been faithfully reproduced from an illumination of the Breviarium ad usum fratrum Predicatorum, known as Breviary of Belleville (1323-1326), the patterns on the outline come from the book of hours of Charlotte of Savoy (1420-1430) ). Sewing with flaxen linen thread in apparent tunnel seams for the lid and the bottom; invisible tunnel seam for the contour.
↑